After seeing images and hearing people talk about the plane flying over the ATP Tennis Tournament, dragging a banner saying "Shame on you Sibcy Cline"- I needed to understand more!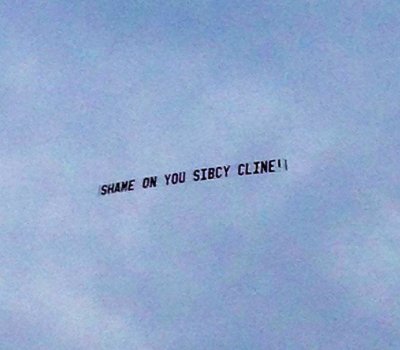 Upon some investigation, I arrived on this website which appears to be from the author, Crysta Pleatman- http://sibcy-cline.pissedconsumer.com/sibcy-cline-refused-to-disclose-violent-criminal-next-door-20131204461533.html
So, I wanted to take a moment to explain to Buyers and Sellers about the lesson learned. The information that Crysta Pleatman is alleging she learned from a neighbor is great information to learn, but per the State of Ohio Real Estate Contract, Line 15 addresses this very clearly, below is a portion of Line 15.
15. BUYER'S INSPECTIONS: Seller makes no representations or warranties with regard to the municipality, zoning, school district or use of the Real Estate, and Buyer assumes sole responsibility for researching the foregoing conditions. Buyer acknowledges that Buyer has conducted investigations of these conditions and the use of the Real Estate, and has verified that the Real Estate is suitable for Buyer's intended use. Seller also makes no representations with regard to conditions outside of the boundaries of the Real Estate, including but not limited to, crime statistics, registration of sex offenders, noise levels (i.e. airports, interstates, environmental), local regulations/development or any other issues of relevance to the Buyer, and Buyer assumes sole responsibility for researching such conditions. Buyer acknowledges that Buyer has been given the opportunity to conduct research pertaining to any and all of the foregoing prior to execution of this Contract. Buyer is relying solely on Buyer's own research, assessment and inquiry with local agencies and is not relying, and has not relied, on Seller or any REALTOR® involved in this transaction.
REAL ESTATE INSPECTION CONTINGENCY: For purposes of this clause, time is of the essence. The Buyer has the option to have the Real Estate inspected, at Buyer's expense. Buyer shall have calendar days (Inspection Period) following written Contract acceptance to conduct all inspections related to the Real Estate. Inspections regarding the physical material condition, boundaries, and use of the Real Estate shall be the sole responsibility of the Buyer. Buyer is relying solely upon Buyer's examination of the Real Estate, the Seller's certification herein, and inspections herein requested by the Buyer or otherwise required, if any, for its physical condition and overall character, and not upon any representation by the REALTORS® involved. During the Inspection Period, Buyer and Buyer's inspectors and contractors shall be permitted access to the Real Estate at reasonable times and upon reasonable notice. Buyer shall be responsible for any damage to the real estate caused by Buyer or Buyer's inspectors or contractors, which repairs shall be completed in a timely and workmanlike manner at Buyer's expense.
In closing, as you can see the contract is quiet clear and puts ALL of the responsibility on the Buyer in this section. Buyers, please take this contract seriously as it is enforceable.
TIP- when you are the Buyer, you do have several opportunities to exit a contract during periods of 'contingencies' but you should ask your agent about the timing of the transaction. I have an internal schedule that I follow for my transactions, and after finding out about this story, I'm thinking about publishing this to my clients so that they have clarity.
While this post isn't to choose a winner, it seems as though likely, the inspection contingency had expired or been negotiated and they exited outside of contract.
This site allows you to search the felonies in your area. http://www.felonspy.com/search.html