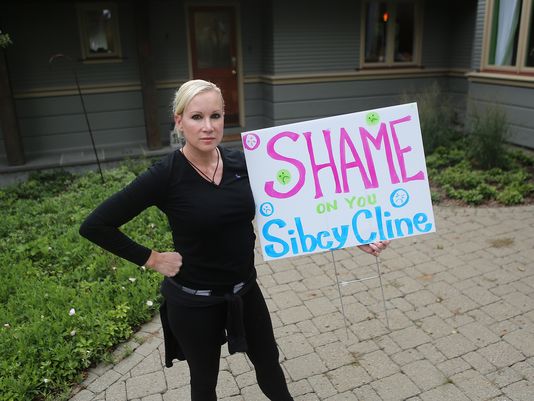 (photo credit- The Enquirer/ Leigh Taylor)
I got an unexpected call the other day (mid-September):
Caller: "Is this John? I am calling to thank you for writing a blog post about my house, the article is named "Shame on you Sibcy Cline…"."
Me: "Thank you, how can I help you?"
Caller: "I appreciate your effort to tell my side of the story and here are some additional facts that you were not aware of…"
New facts from the caller were discussed and are all best captured in this Cincinnati Enquirer article by Bowdeya Tweh.
http://www.cincinnati.com/story/money/2014/09/27/can-next-door-neighbor-home-sale-deal-buster/16366359/
Notable topics that I pulled from the article are:
"Pleatman and her pediatrician husband waived a home inspection and signed a contract on Sept. 26, 2013, to buy the Pipewell Lane house from Grant Troja."
This fact that they waived a home inspection is shocking. The article does not go into the details, but even if a Seller provides a home inspection report from a prior Buyer or that was contracted by the Seller, I always recommend that my clients perform a home inspection. A home inspection does not need to involve a home inspector- it can be from a specific trades contractor, an architect, friends with critical eyes, or a mixture of the above.
The inspection period is the best period of time to walk or RUN from a contract. It happens all the time and it is an industry norm. Waiving an inspection on a 6533 sqft home (above ground) that was built 42 years ago is not a good idea!
"The seller calls the shot on their listing," Garland said.
This idea is very true and in my opinion the proof of a good agent. I ask myself during the hard times in the transaction "Is this for my client, or for me?". Another side of this is that the agent has the choice to work with a client who is telling them to not disclose a fact that a convicted murder lives next door. As an independent contractor working with Keller Williams Realty, I make my own decisions and personally, as a father of 2, could go along with the non-disclosure of this fact- if known. I would not have taken the Listing. This decision is difficult because a Listing of that price is a payday of approx. $37,500!!
The value of a GREAT agent:
I was just in Austin Texas for an event called 'MegaCamp', which Keller Williams produces. One of the most active listening topics was the replacement of agents with the internet and online brokerages. It is my opinion that cases like this exhibit the value added by competent agents working with a good Brokerage. Whether it is a $1.3M property or a $100k property, the Buyers/ Sellers/ Agents responsibility is equal- how are your local professionals carrying that responsibility?
Edit from my Blog post called- "Shame on you Sibcy Cline", not Really-
I mentioned this and the website is inaccurate- do not trust this information. I have not found an accurate source as of yet. "This site allows you to search the felonies in your area. http://www.felonspy.com/search.html"