Lesson 1 : Marketing language replaced by Seller's wish list
Two Lessons from One transaction:
A property in the Cincinnati neighborhood Mt Lookout closed recently and was worth reflecting on. I didnt show the property, but I encouraged my buyer to skip it because it is a ranch home that doesnt offer a single floor living as the garage is below the grade of the house. This isnt a major issue, but it is a narrowing of the market who is able to enjoy the house and this client is very concerned with post inflation sale/ equity (tough client).
The MLS read:
Brick ranch with professionally finished lower level yard with new patio and landscaping. New Media Room, Wet Bar with Quartz & bev fridge, 4th Bedroom/Study, Laundry Room, Half Bath. Walkable location between Mount Lookout & Hyde Park SquaresSeller to review interest/best by 2 PM onFeb 27th & offer acceptance by 6PM.Moving internationally;quick closing w/ possession till end of may or early June.Insp for BPO or repairs above a certain$amount.Seller reserves right to accept offer anytime
This Listing Agent prioritized 37 words to describe this home and its features, while they used 43 words to project the Sellers wishes. This is a neon sign illustrating the severity of inventory lack and the command that Sellers can have if they have a relevant home for the marketplace.
Lesson 2 : Data manipulation on the List to Sale Prices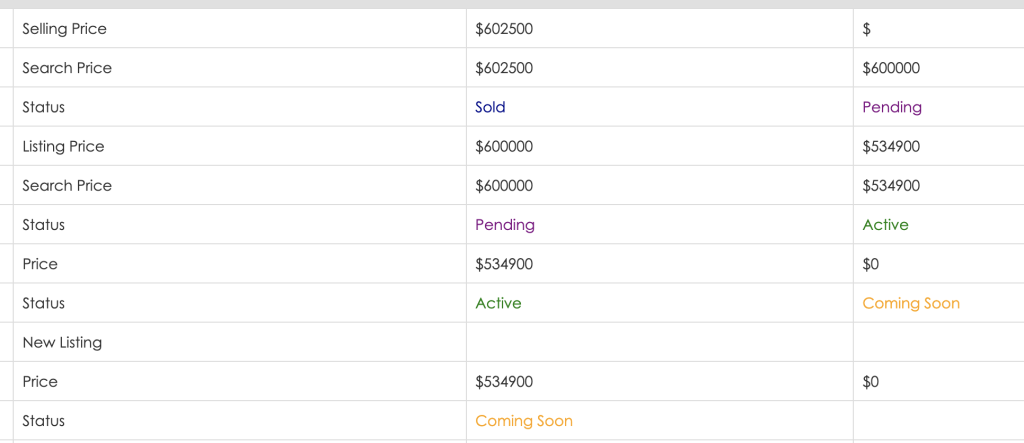 Not all is as it appears when it comes to pricing homes within the Sellers market that we are currently in. This same home was originally marketed for $534900 and upon being marked Pending had a price adjustment to $600k.
100.42%- what was posted and will be forever recorded

112.63%- is reality
The reason for doing this is to minimize the effects of a short appraisal. Having an appraisal contingency is a consumer/ buyer protection which is used by the Lender to inform and insulate themselves from risk- they will only lend on opinion of value. 
A question floating around the real estate industry is one of ethics to the practice of manipulating the MLS (multiple listing service) data to skew the amplitude of bidding on these homes being transacted in the first quarter of 2022.
How the data is used:
Buyers agents use the List Price to Closed Price as a barometer when recommending where to "throw the dart" for contract pricing.
Listing agents use the List Price to Closed Price to establish recommendations/ forecasts for Sellers that come after this sale. 
This data would regularly be used for 6-12 months.